In Memory
Kevin Simmering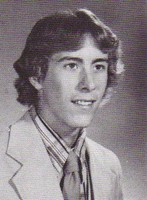 Kevin Scott Simmering of 6348 42nd Avenue N., St. Petersburg, FL, formerly of Havana, was found dead in Florida on Sunday, June 26, 1988.
Kevin had been living and working in St. Petersburg for some time. A cabinetmaker, he crafted boat interiors. He was a 1979 graduate of Havana Community High School and was a member of the Methodist Church.
Kevin was born August 8, 1961 in Havana, the son of George & Anna (Stuart) Simmering. Surviving, in addition to his parents, are one brother, Kent Simmering, of Kent, WA, and three sisters: Kim Simmering of Hamel, IL, Pat Derk of Wisconsin and Billie Garman of Manito.
Services for Kevin were held on Saturday, July 2, 1988 at the First United Methodist Church in Havana, with Rev. Patrick Cox officiating. Pallbearers were Rob Specketer, Tod Griffin, Lee Atterberry, Tracey Trimpe, Kevin McQuoid and Jeff Ebken. Burial was at Laurel Hill Cemetery in Havana.